Ski-tunnels are rapidly becoming an integral part of the sports infrastructure. There are several ski tunnels each in Sweden and Findland, while Germany and Russia have recently built their first. Even in Dubai one can exercise on narrow skis these days – Johannes Klaebo and Niklas Dyrhaug had already tested a ski-complex this spring.
What a surprise – there aren't ski-tunnels in Norway, world leader in cross-country skiing. Norwegian skiers, including National Team members, are forced to do their training sessions on snow in Swedish Torsby.
However, Swedes didn't stop on one ski-tunnel: last week another one, called MidSweden 365, was opened near Oestersund (and not so far from Norwegian Trondheim). Once the last touches applied, it will have the length of ski tracks of some 1400 meters, making it one of the longest ski-tunnels in the world.
Naturally, Norwegians wouldn't just stand idle and watch the other ski nations getting "tunnelized". This week a plan a grand ski hall in Lørenskog, an east suburb of Oslo, was unveiled.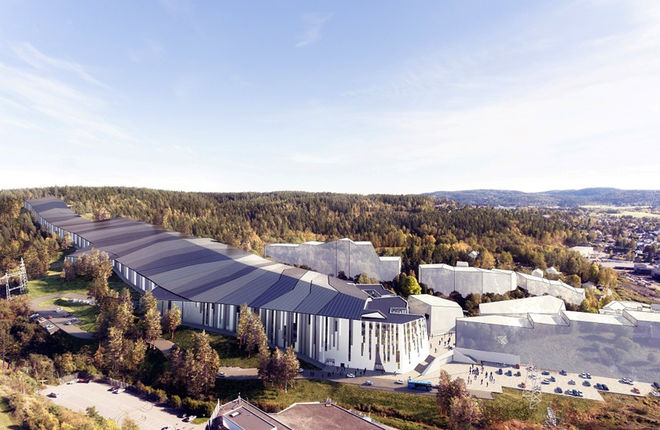 The project calls for 50 000 square meters of guaranteed winter throughout the year and promises to easily surpass the Swedish record: 2000 meters of snow tracks.
The tunnel, named SNØ (for "snow" in Norwegian) has a whopping price tag: NOK 700 million (about 70 million euros). By comparison, initial estimate for the Oberhof ski tunnel in Germany, the most popular of them, all was EUR 14 million – although the final price ended up being higher, as always. Perhaps, the difference in price could be explained by inclusion of 500 meter-long alpine course on top of the cross-country skiing trails.
The work on the new Norwegian tunnel will start already this year and it is expected to be completed by the end of 2019.
Photo courtesy of https://www.snø.no
Please leave your comment below