…More skiers with celebrity parents – we did not manage to cram them all into our first story. Why do we even care about "skiing dynasties" when children continue what their parents did on the ski trails?
Well, for one, the theory says that the right genes should give them an edge in the competition – a totally legal advantage nobody could strip them of. They were also growing with an example of what it takes to achieve top podiums right in front of their eyes – and have the best advisers possible right there in their living room.
On the other hand, each and every one of them had to steel up from the very early age with people constantly comparing them to parents. There's a lot of pressure and it can't be easy to take. So, will they live up to those rather lofty expectations, will they ever outshine "mamma och pappa"?
We don't know – but promise to keep an eye.
Ove and Berit Aunli were both on top the game in 1980s – several Olympic medals the Aunli spouses won between them, is a solid proof of that.. Nowadays their son Lars Ove Aunli, 24 competes for the same club as Petter Northug – Strindheim. In 2015 he won a relay in the National Championship – with the eldest Northug and his brother Tomas. Sometimes Lars Ove plays a role of Northug's sparring-partner on his training camps.
Another Olympic Champion from Norway with two children challenging his achievements Sture Sivertsen. Magnus, 20 and Ragnhild, 18 have already competed in junior races in their native country.
The best Estonian skier ever, an Olympic and a World Champion, Andrus Veerpalu, is a father of two up-and-coming skiers. Andreas, 23 and Annette, 21 are both medalists of a National Championship – Annete had even won. Both participated in the World Championship in Lahti this year.
https://www.instagram.com/p/BHEr5txDqKz/
At the prime of his skiing career Alois Stadlober of Austria was a skiing force to be reckoned with – his World Championship's medal is a proof of that. Teresa Stadlober is a one with probably the best chance of eclipsing her father's fame on our list – that looking at her performance at the World Cup circuit in the last season. A 24 year old is openly talking about her dream of winning at the home World Championship in Seefeld in 2019 – with smart money are already being put on that.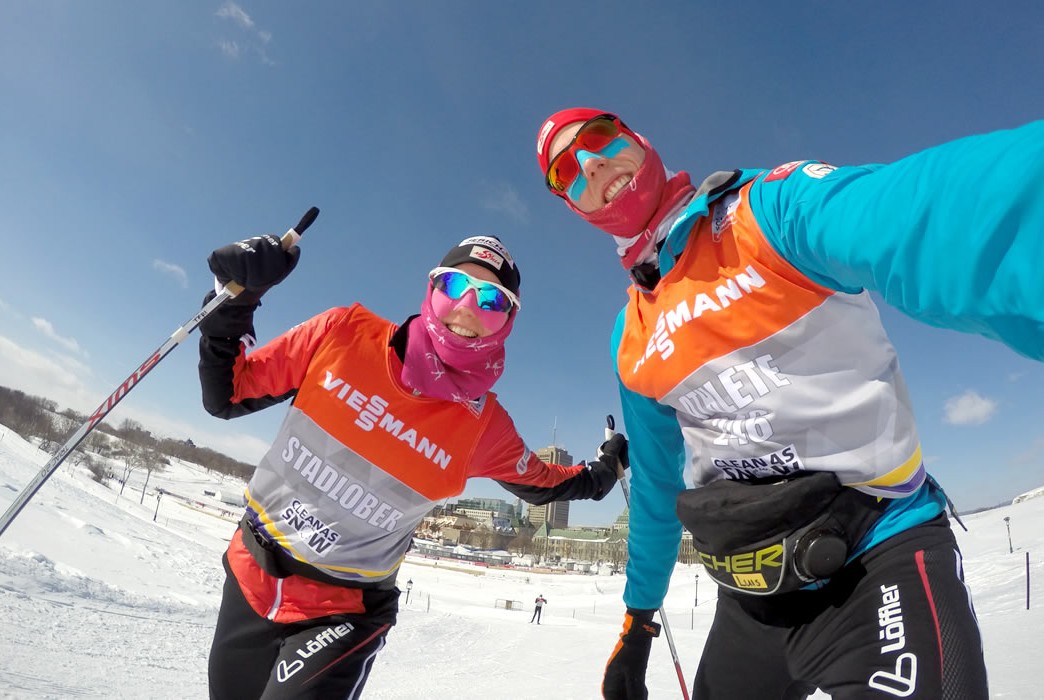 Last but no the least, there's Nora Ulvang – a daughter of Grete Ingeborg Nykkelmo and Vegard Ulvang. Nykkelmo had totally stole the show at the historic World Championship'85 (in case you forgot – that's when free style had appeared en masse) , winning medals in each of her four races, including the gold on 20km. Vegard Ulvang doesn't really need to be introduced (but we shall do it anyway, because there few like Ulvang: triple Olympic champion, multimillionaire through wisely branding his name and, in the last decade, chairman of the executive board of the FIS cross-country committee). With that linage, Nora, 18 is likely feels that she ought to perform – and perform well. So far – so good: Nora is among the best at her age in Norway (which automatically means in the world as well) – but at 18 the skier's career is just beginning.
Photo courtesy of: facebook.com/anette.veerpalu, facebook.com/magnus.sivertsen.7, facebook.com/ragnhild.sivertsen.5,teresa-stadlober.at, facebook.com/nora.ulvang
Please leave your comment below